Penis and pumps developers
The developers are products aimed purely at the male audience. They are born for those who need and / or desire to increase the power and size of their penis, thus also benefiting from the aspect of prowess in the sexual field. Regular use of the product, without exaggerating, can gradually improve the size of your male sexual member, as the main function of the product is to promote blood flow and circulation.
There are different models, with different operating principles.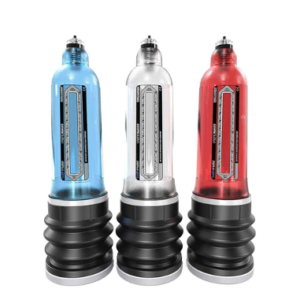 A penis developer as a training partner.
Developers for the penis can be of different sizes, and as mentioned earlier, of different principle of operation. There are manual developers equipped with a pump for sucking the air, which create a vacuum effect inside, and in doing so stimulate blood circulation. Of the latest generation, however, we find the professional hydraulic ones, which use water instead of air, to create the desired vacuum effect, adjustable thanks to a pressure control valve, also present on some manual models.
Among the hydraulic ones, the famous Bathmate Hydromax X40 stands out, considered by those who know it to be the best on the market.
Showing all 5 results